It was an October morning when, JT and I received the tragic news that our daughter had no heartbeat. The trauma of giving birth to death lay around the corner and there was just no way to outrun it. A lot of people have told me they cannot imagine what it must be like to endure such a thing. Some of you already know. For those of you who don't, I'm going to invite you into a broken scene so that you may better know the heart of Jesus.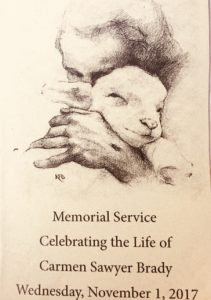 Friday morning when JT and I arrived at St. John's Medical Center to deliver the remains of our baby girl, it was too cold, too dark, and too early. JT teases me that our babies never arrive at convenient times of the day and our darling daughter, Carmen Sawyer, didn't miss this tradition. I checked in and sat down in a fog to just wait on more misery. At 6 AM, my name was called. We started the long walk down the hall and a flood of heaving tears swept over me. One foot in front of the other. It was cold and unnatural. All the exchanges were clinical and abrupt. It felt like no one wanted to be there. I cried while they worked. I cried while my trembling hand signed a paper to have her remains returned to us for burial. Tears of agonizing sorrow.
The nursing staff repeatedly asked if I wanted to take something to make this easier. I continued saying no. I felt frustrated that I was not being heard. I did my best to explain that I didn't want to be numb. She was still confused and said that would happen later in the operating room. I helped her understand that I didn't want my emotions numb. I want to be all here. Let the suffering crush me. This is my pain to endure – don't take the edge off. And you know what? From that moment on, the care I received transformed from clinical to compassionate. The atmosphere changed.(1) I had given them a wide open window to love me the way most of them, probably, wish they could love every patient.
We were showered with prayers and confessions of their own sufferings. My obstetrician came in and gave us blessed quiet. He reached over to me and took my hand in his and just sat beside us in the sorrow. No questions to answer. No hurry to be in. Another nurse came in and held her face close to mine and whispered hope through my tears. The anesthesiologist came in to pray and confessed that he had also lost two babies. Staff that was not involved in the delivery started coming in to give us courage, hope, and shared sorrow. I have never seen anything like it before.
But you know who stood out more than anyone? It was JT. He was the light of Jesus as he became a very present help in time of trouble. He cried with me, he held me, he grieved with me, he prayed with me. He gave me courage when mine was all gone. Always there, until he couldn't be.
The delivery was imminent. I desperately pleaded through my sobs for JT to be permitted into the operating room but to no avail. I had to go by myself. "You can never learn that Christ is all you need, until Christ is all you have."(2) When they rolled me down the hall to the OR of Doom, I felt panic. I questioned the wisdom of my decision to feel this much pain. It was far worse than I expected. I almost ran for it. I looked over at the table upon which the sacred would be torn from my womb and my cries bellowed from the depths of sorrow. Fear was all over me. A nurse wrapped me in her arms while I screamed in denial and tried to get as far away from that table as possible. I didn't want to be so scared but I was. The anesthesiologist leaned close and respectfully asked my permission before medicating me for the surgical delivery.
I fell asleep crying and I woke up crying and muttering "My baby is gone. My baby is gone." I felt abandoned by Jesus. I asked the Man of Sorrows, "Jesus, where were You?(3) I was so scared." He answered my prayer, "I was there. You just didn't see me. I was already on the operating table waiting to hold you."
Did you know you can do that? You can let the Holy Spirit walk you back into traumatic parts of your life and ask Jesus, "Will you show me where You were then?" And He will. Because He promises never to leave you nor forsake you.(4) He is there in your story too. Maybe you just can't see Him, yet.
Notes
1. Brown, C., Brock, M., Ntlele, M., Furtick, S., Joye, W. Here as in Heaven. 2016.
2. Ten Boom, Corrie.
3. Isaiah 53:3, The Holy Bible, English Standard Version.
4. Deuteronomy 31:6, The Holy Bible. New International Version.