I've been a church-girl my whole life and I had developed a well-behaved and tidy lifestyle.  I followed all the rules – led small groups, led worship, tithed, went on mission trips, read my Bible, said my meaningless prayers, and dutifully made meals for those grieving loss and those birthing life. I genuinely thought I was a Christian. I was critically mistaken. I made a serious error by anchoring to Christians, churches, leaders or ideas. I fought my way through life with a smile on my exhausted face. My heart was hardened by pain and pride.  Even though I wanted to, I could not find any reason to believe in God.  I began to see myself for the sham that I was. I didn't come face-to-face with Jesus until September 2, 2016.  My christian face and my atheist heart collided and it was not a pretty scene. In a puddle of my angry tears and naked hypocrisy, I collapsed into the loving arms of My Savior.  "Something broke inside of me; something hard and rigid melted."1 An unmistakable shift occurred.   My prayers were ferocious, indecent, and roaring – it all came spilling out. "Weeping and joyful at the same time the Savior is rocking me in his bosom, and I opened up to the feeling – and it washed over me."2  I am no longer haunted by church-girl doubts about which moment Jesus became mine. There's no part of my life that Jesus is not transforming and I cannot answer the question 'what has Jesus done for you' in past tense only.  He is timelessly redeeming my past, my present and my future. Worshiping God Almighty, instead of indulging the goddess in me, proves to be a shattering and a healing experience.
He replaces my self-hatred with Heaven's eyes,
my depression with His joy, my rage with his tenderness,
my shame with His dignity, my anxiety with His stillness,
my pain and guilt with His freedom, my perversion with his purity,
my hypocrisy with his holiness, my expectations with His unconditional love,
my unforgiveness with His mercy, my tormented mind with His peace,
my unbelief with His faith, my obsessive fear with His power,
my distrust with His protection,  my heavy grief with His song,
my disgrace with His worthiness,  and my pride with His worship.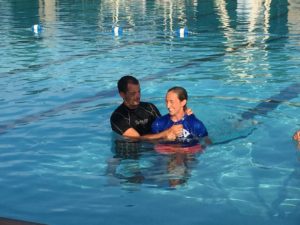 "And here in dust and dirt, O here, the lilies of His love appear."3
The Holy Spirit is both uprooting the Enemy's lies and renewing my mind with His Truth that sets me free. In my experience, the truth is uncomfortable, miserable, and painful – for a while.  But the Lord promises that it is good for those who wait patiently for Him.  "I wait for the Lord, my soul waits, and in His Word I put my hope."4 What felt like my world being turned upside down was in truth the exact opposite.  Jesus is setting my mind, my will, my emotions, my marriage, my motherhood, my family, my everything right side up with Truth. The miracles in my life are becoming like the stars – too many to count. For the last 10 months since I met Jesus, I've been getting to know the me that God designed me to be all along but that my sin and pain had muted, hardened, and distorted. "The sharpness […] and quarrelsome seems to have been washed away and the courage and kindness which I have always had are easier to see."5 I have and continue to confess to Our Father all my pride – both the pitiful versions like my shame and depression and the arrogant versions like my controlling, critical, and demanding behavior.  He keeps gently shining light on sin and His voice whispers, I have more freedom for you. "Daughter, your faith has healed you. Go in peace and be freed from your suffering."6
Jesus my Redeemer, "I think about the years I spent just passing through.  I'd like to have the time I lost and give it back to you.  But you just smile and take my hand.  You [were] there, you understand. It's all part of a grander plan that is coming true. I couldn't see how every sign pointed straight to you – pointing me on my way into your loving arms. God bless the broken road that led me straight to You."7
I am awake, alive and anchored to Our Father in Heaven.  I am a free girl, a daughter of Heaven, a lioness of prayer, and a warrior for truth and freedom in Christ. I am overcome by "how wide and long and high and deep is the love of Christ and knowing this love that surpasses knowledge –  so that I may be filled to the measure of all the fullness of God."8
Notes
Caine, C. (2016). Grand Rapids: Zondervan.
Lamott, A. (1999). Traveling Mercies. Thorndike Press.
Vaughan, H. (1621-1695). The Revival.
Psalm 130:5, The Holy Bible, New International Version.
Lewis, C.S. (1955). The Magician's Nephew. Harper Collins. Personalization added.
Mark 5:34, The Holy Bible, New International Version.
Hanna, J., Hummon, M., Boyd, R. (1994). Bless the Broken Road.
Ephesians 3:18-19. The Holy Bible, New International Version. Personalization added.